Cut Edge Corrosion Cost
Cut edge corrosion is a problem that affects many metal profile roofs as they begin to age.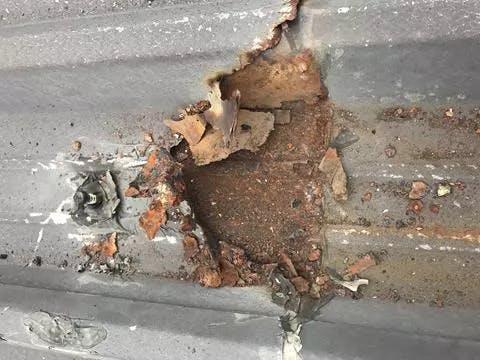 The problem starts with "edge peel," which means that the original factory finish, which is usually Plastisol, begins to peel back from the metal surface at the point where the metal profiled sheets were first cut in the factory.
Initially, there probably won't be any rust (cut edge corrosion) present, but over time, as the bare metal remains exposed to the elements, rust will begin to develop and if left, will worsen and eventually the metal at the cut edges and beyond, will rot away completely.
Therefore, the true cost of cut edge corrosion is potentially a new roof!
However, if treated soon enough, the problem can be arrested and therefore the cost of cut edge corrosion becomes more about the cost of treatment.
Different systems have different costs associated with them.
At Liquasil, we based our cut edge corrosion system on our experience as Chartered Building Surveyors.
Having carried thousands of dilapidations surveys over decades, we know that in most cases, if caught soon enough, the cost of a cut edge corrosion treatment can be minimised.
Although all contractors charge different rates, this isn't the only cost variable.
The size of the project will have a significant bearing, as will the complexity of the roof, geographical location and of course, the extent of the cut edge corrosion present.
That said, a typical cost of cut edge corrosion treatment using Liquasil's system is around the £15-£18 per linear metre mark, including access, labour and materials.
The cost of treatments using other systems may vary, but some coatings companies have different components that not only increase the cost of cut edge corrosion materials, but also labour costs.
It stands to reason that the fewer steps involved in the installation of any product, the lower the labour and therefore, lower costs.
Liquasil's cut edge corrosion system is quite simple.
First, we prepare the affected surfaces to bare metal. Then our marine primer is applied, followed by a single coat of Flexlap, which is our coloured, silicone protective coat.
It's BBA Approved, so you know it does what it claims to do, since the British Board of Agrèment has independently tested it for this purpose.
As BBA is the only independent testing body for the UK construction materials industry, you can be certain that Liquasil's Flexlap cut edge corrosion treatment is a best of breed product.
As you would expect from Liquasil, our cut edge corrosion treatment comes with our unique, single-point, Latent Defects Insurance Guarantee for complete peace of mind.
For more details, please call us on 0121 709 5352.