Roof Light Coating
For glass and GRP roof lights
GlazeProtect is the strongest GRP and glass roof light coating available today. Completely re-engineered in 2021, it is now a two-pack polyurethane, clear coating based on advanced polyurea technology.
Speicfy with confidence, GlazeProtect comes with a 15 year product warranty from Liquasil.
GRP roof lights in particular suffer from UV degradation, meaning that they lose their protective gel finish, leaving exposed glass fibres that go brittle and eventually crack and split.
Glazeprotect is designed to extend the life of GRP roof lights by up to 15 years and as it is being applied, you can see the increase in light being allowed into the building beneath.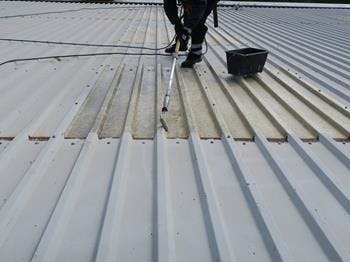 Our approach at Liquasil is to always provide the best quality products, but at the same time, remind clients that alternatives to coatings also exist. We often find that it is as economical to replace a GRP roof light as it is to coat it - something other coatings manufacturers forget to mention.
However, we know there are times when professional specifiers have little alternative than to consider a roof light coating - for example when dealing with asbestos cement roofs, where it's easy to damage adjoining roof sheets when removing old lights. Or perhaps when the existing roof lights are not too old, but some reassurance of their longevity is required.
Roof light coatings vary considerably in quality and in content, so you'll be glad to know that Liquasil's GlazeProtect contains no solvents or VOCs.
It's easy to apply too and goes down in a single coat, saving on materials and labour cost, making it an economical solution to degarded roof lights.
When applied to glass roof lights, it has the effect of laminating the glass.
Simply clean the GRP roof light using a fungicidal wash and soft broom or brush, low pressure jet wash or high temperature steam and allow it to dry.
Mix the two GlazeProtect components (Part A and Part B) and apply by brush or roller, directly to the external surface of the roof light.
The result is instantaneous, with increased light diffusion immediately appearent. After around 2 hours (depending on temperature), the product will cure to a flexible, yet rock-hard clear finish that is impervious to water penetration, UV light and bird attack.
No other roof light coating provides the level of long-term protection of GlazeProtect. It's so good, we provide a 15 year product warranty as standard when this product is installed by a Liquasil Approved Installer.
If you would like more details, please call 0121 709 5352. Our downloads page contains MSDS and TDS information.